12" x 24" personalized with your business information. 2 (pair) of 18″x24″ Fully Custom Car Magnets. Durable, high strength magnets made for outdoor use. Your magnets will be digitally printed and laminated with a clear UV laminate. Just email us your logo/information, and we'll create your premium, digitally printed vinyl magnets.
Store flat when not in use.
Price $65 for two pieces (one set)
Weight 4 pounds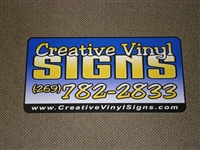 Feather Flags
Generic. Inquire for custom pricing
Complete Kit. All you need is Flag Pole Ground Mount.
Includes New Hybrid Pole!